Friends don't give friends COVID-19, do they?
As you can imagine, preparing for a course with students coming from eight countries and staff from several more countries, there is a LOT to do. We went into the office on Tuesday and met the staff working there. We enjoyed a nice meal at what is currently my favorite Entebbe restaurant called Mutis. They have wonderful juices as well as delicious food! It is a bit pricey, but at least I know what I'm getting.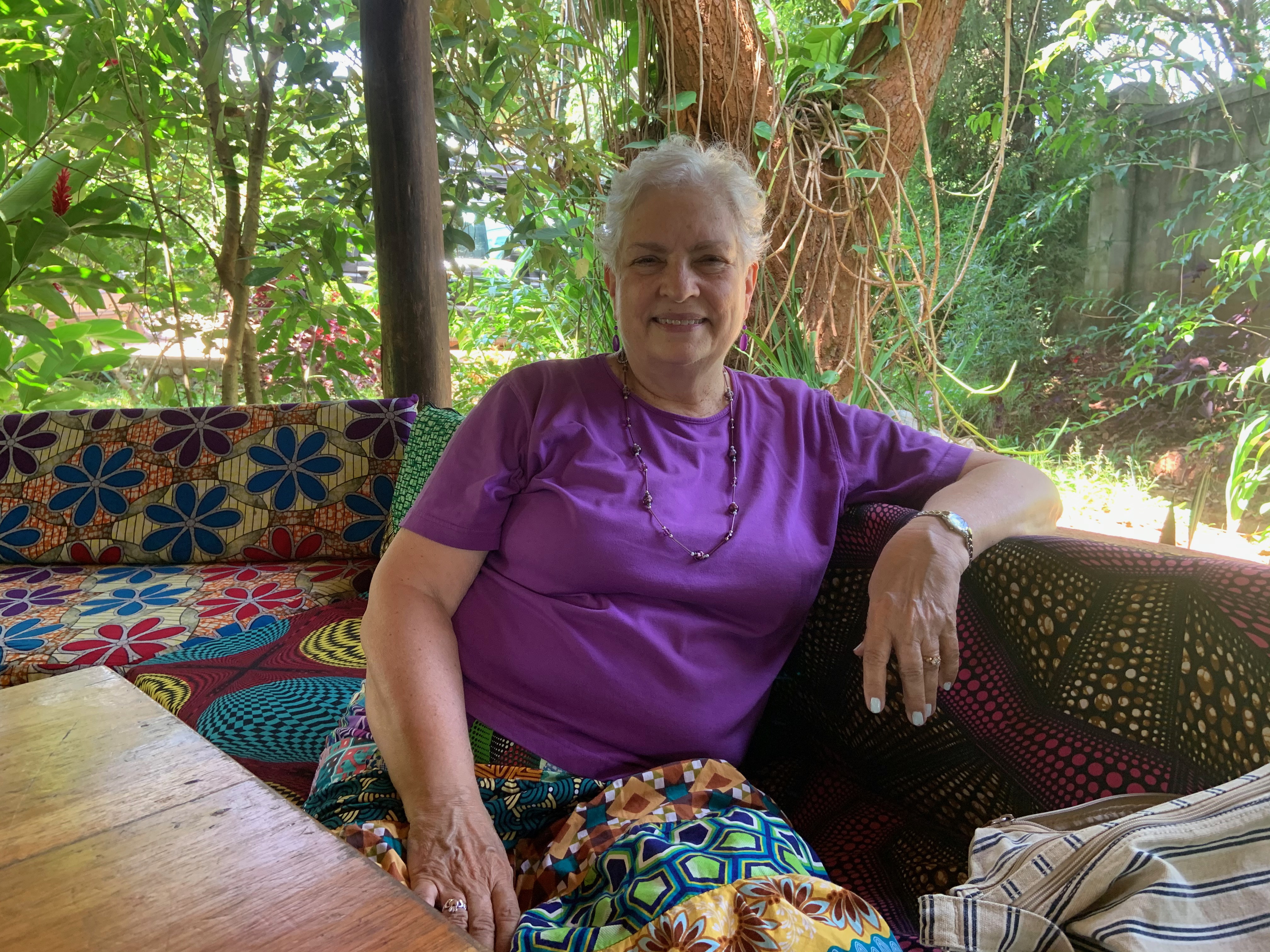 Richard caught me up on the plans that have been put in place and we also prepared for the teacher briefing to be on Thursday and Friday. Tuesday was a short day, and I was ready to go home and lie down on my bed. It definitely needed to be an early night.
As sometimes happens with jet lag, I crashed into a sound sleep for about two hours, and then woke up feeling rather better. However, it was only 1:00 am. I thought I heard some music and as I listened more closely, I recognized a variety of hymns being sung, accompanied by an electric piano. It was clearly not "bar music" but "church music". Some was sung nicely, others not so pleasantly, but all fairly soft. I asked Richard about this the next morning, and it is a tradition here when someone dies, people come to comfort the family. In the night, they sing encouraging songs. I think that is a lovely tradition.
Wednesday was a much longer day as we were sorting books for the library and deciding which ones would come out to iDELTA with us. That was a dirty job, but it had to be done. For lunch, we went into Entebbe town where we ate at a hotel buffet and then did a bit of shopping for some essentials like butter, clothes pegs and such. I found some fun balloons that we could get the students to blow up and then have a competition to see whose could fly the farthest. That should be fun some weekend.
Later in the day, Richard suggested we go out to see the Lweza Centre where we are holding the course to make sure final preparations were underway. The trip is about 30-45 minutes out of Entebbe toward Kampala. There is a beautiful new "tollway" that doesn't yet charge a toll. There was very little traffic and a wonderfully smooth road. We made good time until we had to get off of it. Then things slowed down considerably.
The road to the Centre is being widened, and so the traffic was very congested. I thought we might be on the way for hours, but it just seemed like that long. We were graciously received at the Centre and made our inspection. We didn't get home that evening until 8:30, by which time I was both starving and exhausted.
Thursday morning, Margaret got her COVID testing kits ready and we headed into the office to start the teacher briefing. It was a public holiday, so we had the office to ourselves. Richard had not been feeling well; he thought he had malaria. Symptoms are aches, headache and he had a bit of a cough. He was the first one Margaret tested, and yes, he was positive. While we had tried to be good about wearing masks and staying distanced, that's hard to do in a small car. Margaret and I are both vaccinated, and it's a good thing! Neither of us has ever knowingly been that close to a COVID patient. Richard went for a proper test, and indeed, he had a good case of it. Thankfully, Margaret and I have not had any signs of COVID, but we have been carefully wearing our masks, just in case.
One thing I've noticed about mask wearing: the more familiar I am with another person, the more lax I tend to become about wearing a mask or distancing. After all, I know this person, and they wouldn't give me something horrible like COVID-19! Would they? It doesn't pay to let down your guard for any reason. We will have to watch ourselves and the students, as I expect they may become less vigilant as we get to know each other.